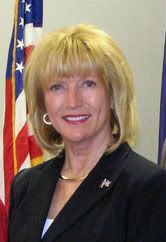 Here at Inside Government our mission is to help explain and provide insight into how our government works and to help empower citizens to take action by providing tools to contact representatives or sometimes just to raise another voice.
Sadly, it is becoming increasingly common that when citizens do take action–when first time letter writers decide to contact their representatives such as over the first $800 Billion Bailout last October or when people like me who blog about the state of our government and the actions of our elected leaders–our elected representatives feel it's acceptable to whip out a form letter and send it off via email or postal mail; in most cases totally ignoring everything that we had to say in our letter, and that we took time out of our busy schedules to write.
Such is the case with a recent letter I sent off to my State Representative in Michigan, Gail Haines. But before I get to that letter and Representative Haines' response, some background. Gail Haines is a Republican, and I voted for her to represent my district because her predecessor was unresponsive to the needs of us living in Michigan's 43rd District. I was also inspired by Haines' campaign and what she promised the residents of our district. Unfortunately, she has proven to be no different than her predecessors, no different from any other politician, and thus, even a bigger disappointment.
Click to continue reading "When Representatives Don't Represent Constituents"