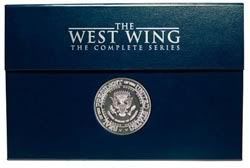 We here in the West of Ireland reckon we know quite a lot about American Politics, with a particular emphasis on the innermost workings of The White House. I don't think we're alone in this, I think much of the developed world now feels much the same.
Of course we are probably mistaken but that's not really the point. I will come to the point by-and-by.
Our education-proper started in September 1999 when a new TV series appeared (they don't really 'explode', do they?) onto our screens. 'The West Wing' was smart, sharp, fast, witty, intelligent and engaging. It took us into the White House with new American President Jed Bartlett and introduced us to his staff and his family as well as his ambitions and his challenges.