Water Wars or Water Peace? Part II
Feb 08, 2011
in
Analysis, Foreign Relations, History, Matthew S. Urdan
Print This Post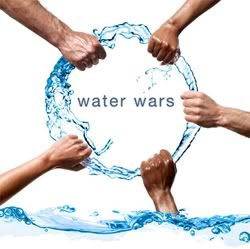 In the past, United States promulgation of human rights has been seen by other nations as sovereign intrusion. (Viotti and Kauppi, 2009). And the "lack of intellectual agreement among social-contract theorists, utilitarians, Kantians, and others who think about values in universal terms is part of the global confusion on such matters. This lack of consensus on human rights—how we are to understand rights and values and what we are to do about them—underlies the global debate on what commitments and obligations we have to fellow human beings throughout the world. Disagreement on what and whose human rights ought to be recognized hinders the construction of a just world society." (Viotti and Kauppi, 2009, p. 441). The emergent right to water in conjunction with other international declarations on the rights of women and children, the emergence of new networks of activists and NGOs dedicated to the establishment of these rights, such as the water justice movement's demand for change in international law to eliminate the commodification of water and instead universally assign governments to hold water in the public trust (Barlow, 2007) and Kaldor's assessment that humanitarian concerns are taking precedence over sovereign issues may indicate those barriers to the construction of a just world society are evaporating.
One final key in determining which path the world will follow in dealing with water scarcity is the role played by multinational corporations (MNCs). While scapegoated in India, the role of MNCs in the commodification of water is a serious issue with many advantages and disadvantages. In addition to the aforementioned groundwater depletion issue which exacerbates global water scarcity impacts, one of the major advantages of MNCs in the water business has been in the increase of water productivity and conservation.

"While cities are learning to use their existing water more efficiently, industry has been the largest single contributor to the unprecedented surge in water productivity. Across the industrial spectrum, water is a major input in production. Alone, five giant global food and beverage corporations—Nestle, Danone, Unilever, Anheuser-Busch, and Coca-Cola—consume enough water to meet the daily domestic needs of every person on the planet…. American companies began to treat water as an economic good with both a market price for acquisition and a cost of cleanup before discharge in response to federal pollution control legislation in the 1970s. With characteristic business responsiveness wherever operating rules were clear and predictable, they sought ways to do more with the water they had and to innovate in their industrial processes so that they needed to use less overall. The results were startlingly instructive of the enormous, untapped productive potential in conservation." (Solomon, 2010, p. 469).
Perhaps realist, liberal institutionalist, and constructivist theories are about to be supplanted by economic structuralist views. In his review of Robert Glennon's Water Follies, Steinberg explains that

"our nation's democratic system is on life support, that the Constitution and the liberties it ensures remain in operation, but in terms of the people's ability to participate in important governmental and political decisions regarding social and environmental issues, democracy in America is, if not exactly dead, then in a severely compromised state. This state of affairs is mainly the result of the increasing power and influence of multinational corporations." (Steinberg, 2004, p. 620).
While MNCs increasingly operate outside political boundaries and exploit the resources and employment bases of the countries they operate in, MNCs are also hastening the depletion of the groundwater supply, and thus threatening all the abilities of all nations to maintain or increase agricultural capabilities and supply worldwide populations with accessible potable water. As bad as this sounds, it also presents the intriguing possibility of an emerging global economic structuralist regime in which MNCs become the new world government. Already operating alongside of or outside of or independent of official state governments in many ways—and certainly outside of democratic electoral structures in the United States— MNCs are in a unique position to take on global leadership or even governmental roles, especially in the South.
If five major food and beverage companies consume enough water to meet the demand of every human being on the planet, the prospect that they could supply water to the world through their distribution capabilities and provide water to the 1.1 billion that lack access to safe water and the 2.6 billion without basic sanitation (Spoth, 2009), is worthy of consideration. Certainly a government of the "Coca-Cola Nation" could be formed with the consent of the 1.1 billion human recipients at the end of the Dasani pipeline.
In terms of the "global adaptation governance" of Bierman and Boas, MNCs are uniquely positioned to play an effective role since they alone really participate in and interact with a complex array of world governments on a daily basis. And what better entity exists to deal with global food and water supply issues than a global food and beverage company? The question that begs to be asked, however, is could an MNC transform itself into an effective governmental entity that would protect the interests of its citizenry over that of its shareholders? From a purely economic structuralist perspective, that answer is probably "no." But from an English School or contructivist perspective it might be possible. Therein lies intriguing possibilities.
The strong do what they will and the weak do what they must."—Thucydides. The realist perspective is an old one and has survived for twenty-five hundred years. On December 20, 2010, South Korea conducted live-firing drills near its disputed border with North Korea in response to North Korea's November attack on the South Korean island of Yeongpyeong. While it is far too early to understand the motives of North Korea, the North Korean attempted hack into South Korea's water supply data network on October 20, 2010 (NK News.org, 2010) may indicate that these are early volleys in a water-war on the Korean Peninsula. Despite all the literature and rhetoric, despite all the statistics, despite all the biases in the media that favor water conflict scenarios over water cooperation scenarios (Gupta and Zaag, 2009), it is likely the realists have it right after all.
Humanity is indeed at a crossroads. While cooperation in managing common water resources has been the norm, when supplies get tight due to changing global climatic patterns and increasing populations and tides of environmental refugees emigrating to water-rich nations, perhaps even practical constructivists will determine that war to protect their water resources is their best option. Or, as Bierman and Boas suggest, perhaps the institutionalist perspective will win out as states decide it's in their best interests to cooperate to find a global solution to this most pressing of global issues. In the process of doing so, perhaps not just global adaptation governance processes will emerge, but rather increasing global water scarcity may result in the creation of global governance structures that will spark a transformation of nation states into a peaceful global civil society rather than hasten a degeneration into a Hobbesian state of war.
Read the First Half of this Article in Water Wars or Water Peace, Part I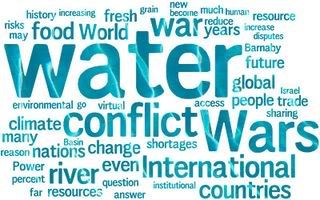 References
Allan, J. (2002). Hydro-Peace in the Middle East: Why no Water Wars? A Case Study of the Jordan River Basin. SAIS Review, 22 (2), 255-272.
Annin, P. (2006). The Great Lakes water wars. Washington, D.C.: Island Press.
Barlow, M. (2007). Blue covenant: the global water crisis and the coming battle for the right to water. New York, New York: The New Press.
Berry, K. A. (2008). Beyond the Crisis? Moving Water and People away from the Margins. Yearbook of the Association of Pacific Coast Geographers, 70, 14-27.
Biermann, F. and Boas, I. (2010). Preparing for a warmer world: towards a global governance system to protect climate refugees. Global Environmental Politics, 10 (1), 60-88.
Dinar, S. (2009). Scarcity and Cooperation Along International Rivers. Global Environmental Politics, 9 (1), 109-135.
Gleick, P. (2010, December 14). Water distribution: Where is water on, above, and in the Earth. Retrieved December 19, 2010, from USGS: http://ga.water.usgs.gov/edu/waterdistribution.html.
Gupta, J. and Zaag, P. (2009). The Politics of Water Science: On Unresolved Water Problems and Biased Research Agendas. Global Environmental Politics, 9 (2), 14-23.
Hiskes, R. P. (2010). Missing the Green: Golf Course Ecology, Environmental Justice, and Local "Fulfillment" of the Human Right to Water. Human Rights Quarterly, 32 (2), 326-341.
Jackson, S. J. (2008). Writing the Global Water Crisis. Technology and Culture, 49 (3), 773-778.
Kaldor, M. (2003). The Idea of Global Civil Society. International Affairs (Royal Institute of International Affairs 1944-), 79 (3), 583-593.
Library of Alexandria. (n.d.). Water. Retrieved December 19, 2010, from Ismail Serageldin: http://www.serageldin.com/Water.htm.
NK News.org. (2010, October 20). NK Attempted to Hack Data on S. Korea's Water Supply. Retrieved December 19, 2010, from nknews.org: http://nknews.org/2010/10/nk-attempted-to-hack-data-on-s-koreas-water-supply/
NOAA. (n.d.). Description of Hydrologic Cycle. Retrieved December 19, 2010, from NOAA: http://www.nwrfc.noaa.gov/info/water_cycle/hydrology.cgi
O'Connor, K. and Sabato, L. (2009). American government. (E. Stano, Ed.) New York, New York: Longman.
Sahni, H. K. (2006). The politics of water in South Asia: the case of the Indus Waters Treaty. SAIS Reveiw, 26 (2), 153-165.
Solomon, S. (2010). Water: the epic struggle for wealth, power, and civilization. New York, New York: HarperCollins.
Spoth, T. (2009). Of Note Peace over Water? SAIS Review, 29 (1), 113-114.
Steinberg, T. (2004). Big Is Ugly: Corporate Enclosure and the Global Water Supply. Technology and Culture, 45 (3), 618-623.
Viotti, P. and Kauppi, M. (2009). International relations and world politics: Security, economy, identity (4th ed.). Upper Saddle River, New Jersey: Pearson Prentice Hall.
Like this post? Subscribe to my RSS feed and get loads more!