America is at a major crossroads and it is time to decide what we want for our society. Do we want to work together to solve our issues and contribute to the positive growth of our nation or do we want to live in a society of hate where the left and the right are always at odds, where bullying and scapegoating is accepted? Do we want to lead the world in the promotion of human rights and democracy, or do we want to be the bully imposing our will on sovereign nations for our own benefit, even if our actions conflict with our most cherished ideals?
In many ways, our response to gay marriage is a microcosm of these larger questions. Paradoxically, while we condemn nations like China for their human rights violations, we still embrace racist practices here at home and give hate a forum. The Obama administration's decision to no longer support the Defense of Marriage Act (DOMA) is a step in the right direction to end one of our nation's last great frontiers of hate and denial of dignity and respect to a significant segment of our nation's citizens. It is probably the best decision of Obama's presidency to date, no matter what your politics and views regarding gay marriage are if for no other reason than the decision recognizes the humanity of gay men and women and that they are entitled to equal protection under our laws as citizens of the United States.
At the end of the day, gay marriage is not about you or me or what we think is right and wrong. Gay marriage is about the dignity and respect our fellow Americans deserve as citizens of the United States and equality under the law exactly like the way we have extended dignity and respect, under the law at least, to African Americans, Jewish Americans, Asian Americans, women and the disabled.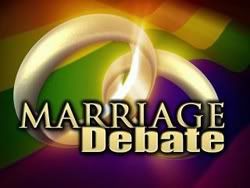 In terms of gay marriage issues, the United States is behind other nations of the world. "At a time when the legal recognition of gay and lesbian relationships has been proceeding apace in advanced industrial nations around the world (most notably, in Scandinavia, the Netherlands, Belgium, France, Canada, Germany, and Hungary and partially or locally in Australia, Austria, Brazil, Colombia, the Czech Republic, New Zealand, Portugal, South Africa, Spain, Switzerland, and the United Kingdom), the efforts of U.S. legislators to prohibit legal recognition demand explanation." (Adam, 2003).
Click to continue reading "Gay Marriage: Our Choice Between Hate and Civil Society"